This post may contain affiliate links and I may receive a small commission when you click on those links. You can read my full disclaimer here.
This Fiverr Affiliate Program review will outline how you can get in on the action and what's in it for you.
Fiverr has garnered significant usage in over 200 countries worldwide, offering gigs in a wide variety of fields. 
How much you may earn on the platform is virtually up to your skills and number of clients.
Plus, if you are an affiliate marketer, there is good news for you too.
What Is Fiverr?
In 2010, a group of entrepreneurs felt that working with freelancers was more challenging than it had to be.
They were tired of the whole process and developed a "Service-as-a-Product" platform for on-demand digital marketing services and more.
Essentially, they created a safe space where freelancers and businesses looking for talent can find each other.
Even better, the rates start at a very competitive five dollars.
This was how Fiverr was born.
Fiverr has since become one of the biggest digital marketplaces for freelancers and prospective clients.
It will just get bigger as more people and businesses discover the benefits of the gig economy.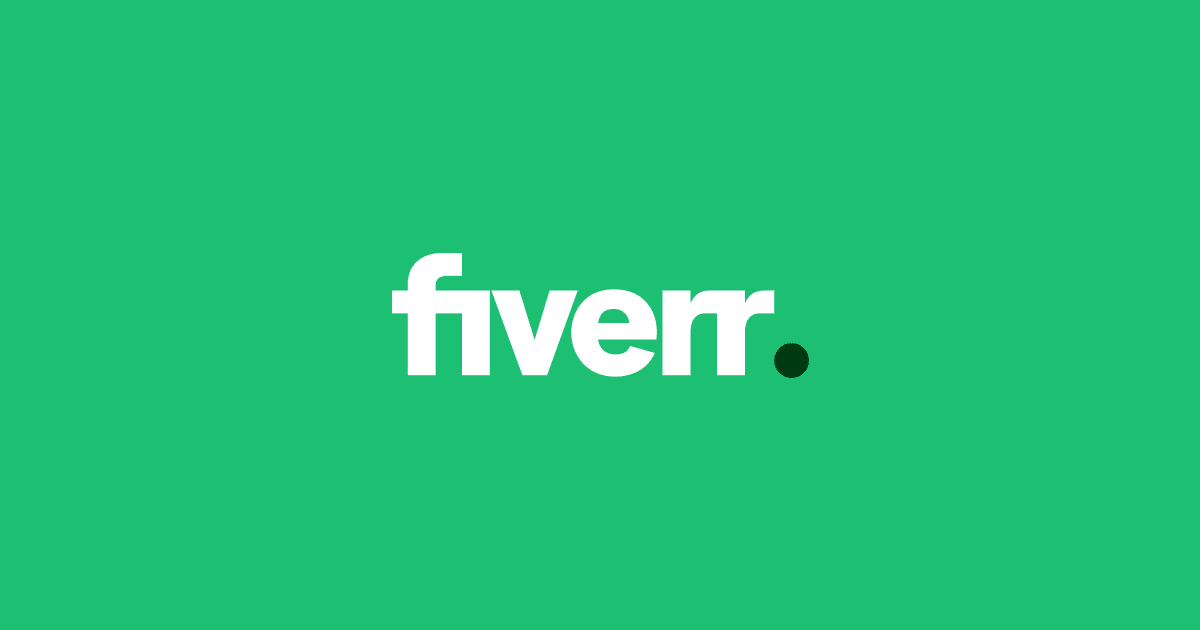 Fiverr Affiliate Program Review
Fiverr is one of the most dominant forces in the online marketplace, offering useful features other than on-demand freelance services.
Some of the most notable ones are:
Fiverr Learn, which provides online courses for as low as $19

Fiverr Elevate, which offers discounts to businesses at any stage

Fiverr Workspace, which features various business software solutions for contracting, invoicing, reporting, and other processes

ClearVoice, which is a collaborative content marketing platform  
With all the opportunities Fiverr opens up, it is easy to see why it has become so successful.
Its potential for affiliate marketing is also undeniable.
Why Choose the Fiverr Affiliate Program?
Affiliate marketing is an effective but affordable marketing strategy.
Many businesses use it, and you can promote for any of them, but here's why you should choose Fiverr instead:
Many Ways To Earn
The Fiverr Affiliate Program gives you a chance to earn extra income simply by referring products and services on its platform.
You get paid for every client you send their way who ends up buying or doing anything that leads to a profit.
Here's how you can get a commission:
You can get paid $15 to $50 for every first-time buyer you refer in the cost-per-action or CPA model.
How much you earn exactly will depend on which service subcategory that buyer is in.
Whiteboard and Explainer videos get you $50, while WordPress pays $40.
Copywriting services are worth $30, while blog posts and articles are worth $25.
For everything else, you can earn $15 each.
The Revenue-Sharing Model
In this plan, you can earn from what your referrals buy at any given time, not just for the first purchase.
It can be seven months or seven years from when they signed up, and you would still get paid.
The catch with this model is that you only get 20% of the 20% that Fiverr earns for each product.
That means for every $100 in sales, Fiverr gets $20, and you get $4.
Obviously, you have to make a ton of referrals to earn a substantial amount.
A Combination of CPA and Revenue-Sharing
Want to get paid outright for every referral and still earn from it for a certain period?
If you do, the hybrid model would be perfect for you.
In this plan, you will get $10 for first-time buys and a 10% revenue share for succeeding purchases within the first year.
It is the best of both worlds, which is why many affiliate marketers choose it.
Earning from Subaffiliates
Fiverr's associate program provides an additional revenue stream through its innovative sub-affiliate link scheme.
Basically, it allows you to refer other affiliates, not just potential buyers.
In this plan, you will earn 10% of the profit that they make.
High Conversion Rate
Remember that you will only get paid if the user you refer becomes a paying customer.
It does not matter how much traffic you generate if it is not converted to something profitable.
The good thing about Fiverr is that its homepage and other landing pages are designed for maximum clicks and sales.
Signing up is also very easy, and there are video tutorials and FAQs to help new users get started.
What's more, customers can access every service imaginable, including hiring someone to break up with a boyfriend or girlfriend.
Aside from the value that it can offer to its users, Fiverr has also built a solid reputation over the years.
The Fiverr brand alone will make it easy for you to promote products and earn from the subsequent sales.
Wide Conversion Window
If you become a Fiverr affiliate, you will get a 30-day cookie, which is longer than what other programs offer.
Hence, you will have more opportunities to get credit for sales, and you stand to earn more.
Easy To Use
Even if you are not tech-savvy, you won't have to miss out on any opportunity to earn with the Fiverr Affiliate Program.
It has an extensive library of marketing materials at your disposal, with countless banners and other creatives.
You can easily filter them by name, brand, size, language, and other file formats.
Deep Linking
With the Fiverr Affiliate program, you can link to specific pages on their website and not just the homepage.
It is a more effective approach that offers better value to users, making them more amenable to your sales strategies.
In time, this will lead to a higher conversion rate.
Things To Consider
While Fiverr's Affiliate Program has a lot going for it, it does have a few chinks in its armor.
Firstly, the first-time-purchase clause is a bit limiting, although the additional 10% revenue share helps a lot.
Secondly, Fiverr has a payment threshold of $100, which is a bit steep compared to the $50 or even less for some brands.
Lastly, the commissions are capped at $150, even for the more expensive Fiverr Pro services that could run up to $8,500.
How To Sign Up
Taking everything into account, it is possible to earn four figures or more in a month with the Fiverr Affiliate Program.
If you want to sign up, here's how:
Step 1: Go to the affiliate sign-up section on the homepage.
Step 2: Input the necessary information.
Step 3: Outline how you plan to promote Fiverr to your target audience.
Step 4: Accept the terms and conditions.
Step 5: Wait for the confirmation email.
Once your application is approved, you can log in anytime on the Fiverr homepage and start earning money.
Benefits and Drawbacks of the Fiverr Affiliate Program
Like in any scheme, there are advantages and disadvantages associated with the Fiverr Affiliate Program.
Keeping these in mind will make it easier to decide if this venture is something you want to take on.
Benefits
Its flat-rate commissions are excellent, potentially one of the highest among all affiliate programs.

The commission is not proportional to the amount purchased.
As a result, you will receive a full reward even if your friend makes the smallest purchase of $5.
There are several services/niches to pick from and numerous gigs.

Fiverr is one of the most widely-utilized freelancer platforms in the world.

The affiliate dashboard is user-friendly yet comprehensive.
Many attest that it is among the easiest ones to get the hang of, especially compared to other affiliate programs' dashboards.
It offers a straightforward and user-friendly interface that makes it simple to work with and administer the whole affiliate program.

Affiliate links of all kinds have a tracking cookie of 12 months.

Also, to be an affiliate, you do not need to be a Fiverr user.
Drawbacks
Flat-rate commissions are fixed, which means you'll receive the same set commission regardless of the size of the purchase made by your referral.

The Fiverr Affiliate Program is based on a CPA (Cost-Per-Action) model, which means you will only be paid once for a successful referral.

A referral is only possible when there is a new user.
You won't get a reward if the person who used your affiliate links has previously availed of the services of a freelancer on the platform.
If your suggested gigs aren't good, your blog's authority is brought into doubt. Because of that, you must use extreme caution while selecting gigs for a referral.
Fiverr Referral Program
To ensure there won't be confusion, the Fiverr Affiliate Program differs from the Referral Program.
You may earn incentives for yourself and your friends by referring them to the Fiverr Referral program. 
Your referral is entitled to a 10% discount for their first purchase, while you are rewarded with 10% of their first order, up to $100.
It is designed to reward users who spread the platform's benefits to other users, causing them to join up for the platform.
Then, a month after earning a referral incentive, you may cash out via PayPal or Stripe.
The referral program allows the user to earn additional revenue on top of the freelancing opportunities they could get.
Earning via the Fiverr Referral Program
Just as with any other referral program, there are multiple ways you can earn income with Fiverr.
Here are some examples:
Content Writing/Blogging
If you have a blogging website, you can write a comprehensive guide in creating a blog.
You will want to cover topics such as WordPress website development, the value of a professional logo, and so on.
Then, insert a relevant Fiverr service under each relevant section to promote it, such as digital arts, content writing, research, and more.
In general, a comprehensive guide is an established method of promoting products and services since you can include links that pertain to a particular topic.
If your website is constantly generating traffic, the chances of someone hiring a freelancer via your affiliate links are high.
Presence of Affiliate Links on Social Media Sites
There are about 200 categories on Fiverr that you can promote. 
You'll be able to locate specialized or related Facebook groups and forums with a large number of active members for maximum potential engagement.
Avoid spamming the affiliate links, though, as doing so will rarely get you any type of traction. 
Instead, respond like an actual human being by answering queries with your unique input and recommending your affiliate link at the end.
This way, the members will deduce that your response is not formulaic and did not come from a bot.
For example, say, you want to market WordPress services on Fiverr, where you may earn a reasonable $40 commission.
To increase your chances, find people in forums and Facebook groups who are interested in making their own website.
Start by answering the queries with as much information as possible to establish that you are highly knowledgeable about the subject.
Then, guide the conversation to the part of which platform they should consider.
Targeting First-Time Buyers
If you can entice people to avail something on the Fiverr platform for the first time, you are due for a commission.
The best way to make your audience interested in Fiverr is to write a candid review of the platform.
Most likely, those who will read it have not yet experienced hiring a service via this freelancer marketplace.
Fiverr Affiliate Program Review: The Verdict
The Fiverr Affiliate Program offers a great way to supplement your income, especially as the free market system continues to grow.
It is shaping up to be the backbone of the future, opening up unlimited earning potential today.
Don't miss out on it; sign up now!